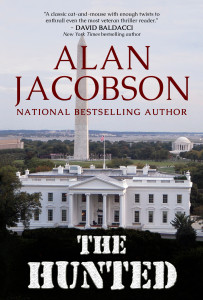 The Hunted (OPSIG Team Black novel #2)
Simon & Schuster/Pocket Books (hardcover/paperback), 2002
Open Road (eBook), 2011
Smith Cabot (trade paperback), 2011
"The characters were like old friends and the inside look at the FBI was terrific. I absolutely LOVE this book!"
–Associated Press
"A classic cat-and-mouse with enough twists to enthrall even the most veteran thriller reader."
–David Baldacci
"This psychological twister breaks the mold of the typical thriller."
–BookReporter
How well do you know the one you love? And how far would you go to find out?
When Lauren Chambers' husband Michael mysteriously disappears, her search uncovers Michael's hidden past involving the FBI, international assassins–and shocking government secrets that some will go to great lengths to keep hidden.
As The Hunted hurtles toward a conclusion mined with turn-on-a-dime twists, no one is who he appears to be–and nothing is as it seems.
The Hunted introduces a number of characters who reprise their roles in later Alan Jacobson thrillers, a list that includes Department of Defense covert operative Hector DeSantos, FBI Director Douglas Knox, and former CIA operative Anthony Scarponi.
Buy The Hunted:
KindleNookiBooksGooglePlayKoboPaperbackAudiobookIndieBound
var _gaq = _gaq || []; _gaq.push(['_setAccount', 'UA-33222454-1']); _gaq.push(['_trackPageview']);
(function() { var ga = document.createElement('script'); ga.type = 'text/javascript'; ga.async = true; ga.src = ('https:' == document.location.protocol ? 'https://ssl' : 'http://www') + '.google-analytics.com/ga.js'; var s = document.getElementsByTagName('script')[0]; s.parentNode.insertBefore(ga, s); })();