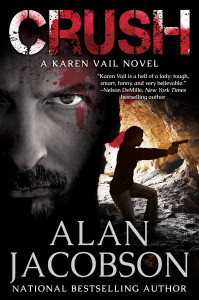 Crush (Karen Vail novel #2)
Vanguard Press (hardcover), 2009
Vanguard Press (paperback), 2010
Open Road (eBook), 2014
"Action-packed story (with) plenty of bark and bite, sizzle and emotion…a tangled tale of delightful intrigue. Well done."
–Steve Berry, New York Times bestselling author
"Crisply written, meticulously researched, Crush rocks from the opening page to the jarring conclusion. Don't start it unless you have a full evening to finish it, because you won't be able to put it down."
–Steve Martini, New York Times bestselling author
FBI Profiler Karen Vail went to the Napa Valley for a vacation. The Crush Killer had other plans.
Ordered to take time off after a shooting in front of the White House, FBI Profiler Karen Vail travels to the Napa Valley for R&R. But hours after arriving, she stumbles upon a dead body in the deepest reaches of an exclusive wine cave. Convinced that the victim is the work of a serial killer, Vail offers her profiling skills to the local sheriff's department. Adding her to the Major Crimes Task Force, however, has an unintended consequence: it raises the ire of the Crush Killer, and things spin out of control, resulting in a rousing climax that has dire consequences for Vail and her colleagues.
Book notes: Crush introduces the dynamic (and fan favorite) character Roxxann Dixon, who returns in Velocity (Karen Vail #3) and Inmate 1577 (Karen Vail #4). In addition, because the storylines of Crush and Velocity are tightly interwoven, it is recommended that Crush be read before Velocity.

Buy Crush:
Even better: get the discount-priced Crush-Velocity bundle: two bestsellers, one low price

KindleNookiBooksGooglePlayKoboPaperbackHardcoverAudiobookIndieBound
var _gaq = _gaq || []; _gaq.push(['_setAccount', 'UA-33222454-1']); _gaq.push(['_trackPageview']);
(function() { var ga = document.createElement('script'); ga.type = 'text/javascript'; ga.async = true; ga.src = ('https:' == document.location.protocol ? 'https://ssl' : 'http://www') + '.google-analytics.com/ga.js'; var s = document.getElementsByTagName('script')[0]; s.parentNode.insertBefore(ga, s); })();